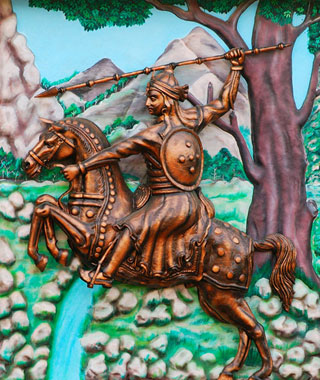 Maharana pratap holds a uniqe position in the history of india. His unique example of combating the mighty mughals, with a meagre manpower is rare in the history of the world. No one can be compared with the invincible Rana, who always held his head high amidst many vicissitudes of life.
Maharana pratap was born on 9may 1540. He was enthroned in 1572 and struggled for the independence of his motherland and the preservation of indian values till he breathed his last. In 1576, Maharana pratap displayed unbounded courage and bravery in the battle of haldighati. After the historical and decisive victory in the battle of dewair in 1582, he led mewar state on the path of social and cultural advancement and made chawand his capital in 1585. He left for his heanvenly abode in 1597.
Pratap was the first freedom Fighter, who with his meager army, defended his motherland and struggled hard for long period of 25 years and that too against the Mughal Emperor 'Akbar'. He was victorious though vanquished. He could not be captured with all the strenuous efforts of the mighty Mughals. Pratap was Great General, a brave Warrior and successful organizer. He introduced guerilla warfare in India, which was later adopted by Chhatrapati Shivaji in Maharashtra and Maharaja Ranjit Singh in Punjab.