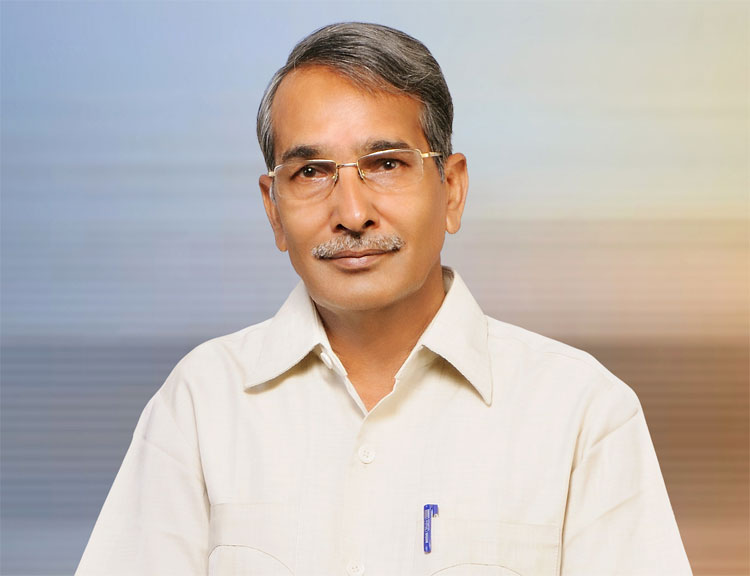 Mohan Lal Shrimali Founder - Maharana Pratap Museum, Haldighati
Personal Profile - Zero to Zenith
The life story of Mohan Lal Shrimali is the story of abject poverty, perpetual struggle, strong determination and ultimately crowning success. Born in a small village near Haldighati, a poor farmer's son graduated from the University of Udaipur and became a teacher. His indomitable spirit was not satisfied with simply teaching the story of Pratap - the great warrior and the freedom fighter, personifying bravery, courage, and sacrifice. Mohan Shrimali always dreamt of paying Pratap a befitting tribute which could reveal the rare qualities of this great hero of India - Pratap.
An Effort to Inculcate Partiotism
A neglected marble Chhatri at Haldi Ghati stands as a poor memorial to the event. May be history would have been gradually forgotten but for Mohan Shrimali - a school teacher. Mohan Shrimali took an early retirement to put up a museum that is more befitting in size and ambit to pay a worthy tribute to Pratap. Pooling his pension benefits to his life time savings and the money he got by selling his house and land, augmented by a bank loan, the former school teacher Mohan Shrimali, 61 has built a resplendent Maharana Pratap Museum spread over three acres. There are tableaus showing the scenes from the life of Maharana Pratap as well as a light and sound show. His initial investment of a Crore was mainly aimed at providing the glorious glimpses of our history and to inculcate the spirit of nationalism. This museum is unique example of a single man's effort (in the private sector) to develop patriotism in Indian youth and thereby of rendering invaluable service to the country.
Shrimali - The Visionary
Shrimali was inspired by his mentor Balwant Singh Mehta, freedom fighter, and member of the Constituent Assembly. Mehta told Shrimali that since Shrimali was born in Haldighati, he should devote himself to Maharana Pratap. Focusing on Pratap as on icon of patriotism, he felt that a commemorative statue of Pratap or a garden would not be enough. Culling ideas from the Akshardham temple in Gujarat, he designed the complex himself. The museum not only depicts the greatness of Pratap but also provides valuable glimpses into the history, civilization and culture of Mewar.
His Preservation of Art and Culture
Shrimali's sumptuous One Crore museum has been drawing tourists from all over India and from all over the world. Shrimali plans to spend most of the earnings of the museum to expand it, which may not be too far away, considering that with its low priced tickets it has become so popular that about 6 Lac tourists are flocking to this museum every year. Along with the depiction of our glorious past Shrimali has contributed to the preservation of our heritage in Rajasthani Art and Culture by establishing an Art and Culture Museum as well. Our folk arts and artists need ample protection. Shrimali has employed several folk artists. A rare collection of traditional utensils, musical instruments, clothes, arms, weapons, agricultural and domestic equipments has been made and the process of enriching the collection has gained momentum. Shrimali's toil and labor will inspire the coming generations till eternity by making them conversant with our rich heritage of Art and Culture.
Shrimali's Indomitable Spirit of Social Service
Shrimali's indomitable spirit of social service revealed itself in many ways in every walk of life. He has been instrumental in improving the total environment of his area, be it school buildings, plantation, cleanliness, water and electricity facilities or any other private or public sector activity of rural development. On this account he has been honored and awarded at the district level on five occasions.
A Big Boost to Tourism and Employment
Haldi Ghati (The Thermopolis of India) has been world famous. Prior to the establishment of this museum only 25 to 30 thousand tourists used to visit and they too were disappointed for lack of something substantial. The number of tourists now has multiplied in geometrical progression to Six lac's. To cater to the need of the museum and increasing tourists about 1000 youth have been employed. Shrimali's efforts have gone a long way to give a big boost to rural tourism and rural employment.
Awards and Appreciations
Shrimali has a score of decorations in the form of Awards and Appreciations to his credit. He has been awarded by His Excellency the President of India on January 10, 2012, for his excellent services in the field of social service, national service, history, tourism, art and culture. Three times awarded at the state level, he is the recipient of several awards and honors, showered on him by reputable national, state and local organizations.
Visits of the V.V.I.P.'s and their Comments
The Former President of India (the then Governor of Rajasthan), the Former Prime Minister (the then M.P.) the late Vice President Shri Bhairon Singh Shekhawat, several Central Ministers, Chief Ministers, MLA's, MP's, Officers of All India services, and the Chief Justice and Justice of the Supreme Court and most of the High Courts have visited this museum. His 'can do spirit' perhaps is the truest tribute to a man like Pratap who was daring enough to take on an empire. Shrimali's Endeavour's are aimed at inculcating the highest ideals of nationalism and patriotism in Indian youth, as these were the ideals for which Pratap sacrificed all his life. Thus Mohan Lal Shrimali is rendering his unique and invaluable services to the cause of creating the spirit of nationalism and social service in Indian youth. V.V.I.P.'s visits and their comments have been incorporated in the case file of Mohan Lal Shrimali.
Shrimali's Missionary Spirit
Shrimali has always been mindful of the tourists' demands. In addition to the substantiality of the museum, he is very particular about their facilities and above all decent behavior to them. Shrimali doesn't use the income from the museum for his family. This income is spent on the expansion and improvement of the museum only. It's the Rose and the rose products on which he has been concentrating to earn his living. The cultivation of rose on a large scale and thereafter by developing the industry of rose products, he has created several jobs for the people of that area. In fact Mohan Shrimali has earned the greatest credibility for the sole reason that his focus has always been on the development of the area and the people around him and not on his personal growth and enrichment.